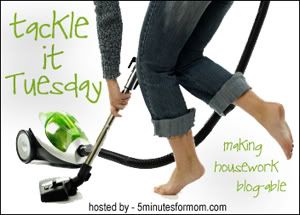 So this is going to be a little different than most Tackle it Tuesdays. I'm sick, Anthony's sick and neither of us got much sleep last night. However, I've got a huge list of stuff to get done. We spent yesterday at the park, and outside a lot so I have to get stuff done today. I'm going to post my list here and check back in every so often as I cross stuff off. I probably won't get it all done, but I can start!
ETA: It's 930 and I'm feeling a lot worse. My head feels like it's about to explode. I can feel myself getting sicker. So I'm off to get as much of my list done as I can before I give in and take some tylenol cold. Wish me luck!
Clean the kitchen
Do laundry
Put laundry away
Change kids sheets
Change my sheets
Deep clean my bedroom
Vacuum living room
Clean bathrooms
Sweep and Mop
Take out Garbages
Ready, set, go!!