It's Wednesday! Time for what I ate. And since I'm getting new visitors around here, I thought I'd share a little disclaimer. I had stomach surgery in August. I'm still on a pretty limited and small portioned diet. I'm eating super small quantities but I'm under a doctor's care. Don't send me emails that you're going to eat like I eat so you can lose weight okay? lol.
I didn't really have breakfast, it was more of a brunch. It was blackberries and Chobani Greek yogurt. This was my first time trying the Chobani yogurt. It's good because it has a lot of protein, but it's also got a lot of sugar. I ate half the container and was okay, I think if I ate a whole container it might make me sick.
Dinner was a small baked pork chop and some veggies. It was yummy. I was just released by my surgeon to have pork, after not being allowed any for like five months, so pork chops are pretty exciting. lol.
Blackberries are one of my favorite foods from my childhood. They grew wild all over the place where I grew up, but that's not the case where I live now so they're a rare treat. So of course I had to have them twice in one day. My snack was blackberries and cottage cheese. Nom. Nom. Nom.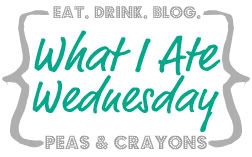 What WIAW isn't about
Comparison - Judgement - Restriction - Guilt
What WIAW is about
Celebrating one of the glorious things we all have in common: We all eat!
WIAW is about food and fun! It's about making new friends, breaking out of a food rut, inspiring yourself & others, embracing fruit & vegetables, finding new ways to eat your favorite foods, and so much more <3
Celebrate blogging. Celebrate Food. Celebrate Individuality.
[Cause over here, we like to party!]