I'm actually doing this two weeks in a row. Yay me. My food this week isn't very exciting. I've got a cold and can't really taste anything. And I have a fridge full of leftovers, so that's what I'm eating.
As is still typical for me, my eyes were bigger than my tummy. I ate the cranberry sauce and turkey and the deviled egg, and only had room for one bite of stuffing. It was a good bite though! :-)
More turkey. I told ya it was an exciting day didn't I? So turkey, green beans, and a bite or two of potatoes.
Dinner was two little Babybel cheeses and a cup of tea 30 minutes later. (I can't eat and drink at the same time because of the surgery. Fun huh?)
So, did you play What I ate Wednesday this week? Leave me a comment if you did, I'd love to come visit your blog. :-)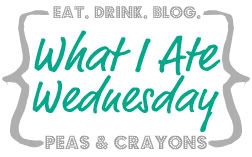 What WIAW isn't about
Comparison - Judgement - Restriction - Guilt
What WIAW is about
Celebrating one of the glorious things we all have in common: We all eat!
WIAW is about food and fun! It's about making new friends, breaking out of a food rut, inspiring yourself & others, embracing fruit & vegetables, finding new ways to eat your favorite foods, and so much more <3
Celebrate blogging. Celebrate Food. Celebrate Individuality.
[Cause over here, we like to party!]