I found a fun linkup on Jen's blog, that I thought I'd try out this week. A few people have asked me lately what exactly I can eat. Here's a day of food for me, in pictures.
Gotta start the day with a cup of Good Earth Chai tea.
.

Laughing cow light cheese gets spread on the peeled cucumbers. Then the turkey and cheese gets rolled up.
Can you tell how itty bitty my plates are? They're the size of a saucer for a tea cup. This is salsa chicken with black beans and a little reduced fat cheese on top.
Teriyaki chicken with stir-fry veggies.
Snack is three mozzarella balls from Trader Joe's. One of my favorite snacks.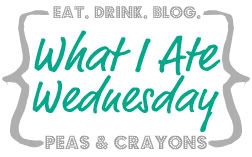 What WIAW isn't about
Comparison - Judgement - Restriction - Guilt
What WIAW is about
Celebrating one of the glorious things we all have in common: We all eat!
WIAW is about food and fun! It's about making new friends, breaking out of a food rut, inspiring yourself & others, embracing fruit & vegetables, finding new ways to eat your favorite foods, and so much more <3
Celebrate blogging. Celebrate Food. Celebrate Individuality.
[Cause over here, we like to party!]