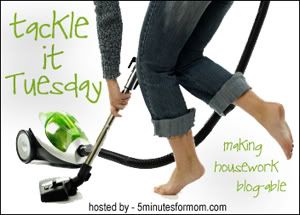 Rather than tackling one thing this week, I am tackling my massive to do list. I'm just picking ten of the many things that need to be done. I will finish them today!
Do laundry
Put away laundry
Go to the post office and mail our postcards*
Finish making Jeff's Halloween costume
Get craft project prepared for Amelia's preschool Halloween party
Clean the kitchen
Sweep and Mop
Vacuum
Clean up all the junk outside from Ant's party
Organize my coupon mess
What are you tackling this week? Visit 5minutesformom.com if you want to see more Tackles. If you played, leave me a comment and I'll visit your site.
* I signed Amelia up for postcrossing.com You send postcards out to places all over the world, and then you get some back from other people. The kid loves getting mail, so I think she'll enjoy it.