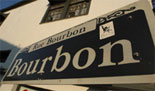 I have always wanted to visit New Orleans. It's one of those places I always assumed I'd get to sooner or later. In high school a few of my friends went, bringing back wonderful stories of cafe au lait and beignets from the French Quarter. When I was in college a few friends went for Mardi Gras. Looking back, I really wish I had gone too, it's so much easier to travel when you're young and kid free. However, that won't stop me from going one day!
New Orleans is a major US tourist destination, well known for it's unique culture, including the food architecture and music. The city is often considered the birthplace of Jazz music. Since Hurricane Katrina struck, New Orleans is not just one of the oldest cities in the US. It's also shown how strong the people are. Residents have returned and are still showing tourists what a great city New Orleans is.
Whenever I get the chance to visit a city, I love to go on tours and learn about the things I would have missed on my own. Tours are also a great way to save money, they often give you a great combination of activities for a low price. When I go to New Orleans, I will be using Trusted Tours to see the city. Of the many
New Orleans Tours
that are available, I think I am the most interested in the French Quarter Walking tour. It's only $22 and would give me a chance to really see the French Quarter. If you have a chance to visit this great city, go check out one of the tours from Trusted Tours, and let me know what you think. You won't be disapointed!